On January 4, 2023, at the Headquarters of Cooperative Bank of Vietnam (Co-opBank) at N04 Hoang Dao Thuy, Trung Hoa ward, Cau Giay district, Hanoi, the project kick-off ceremony took place. Project "Credit Debt Classification and Early Warning". Under the attendance of the Board of Directors of the Cooperative Bank of Vietnam, relevant officials and departments, and the contractor, TechPlus Solution Co., Ltd.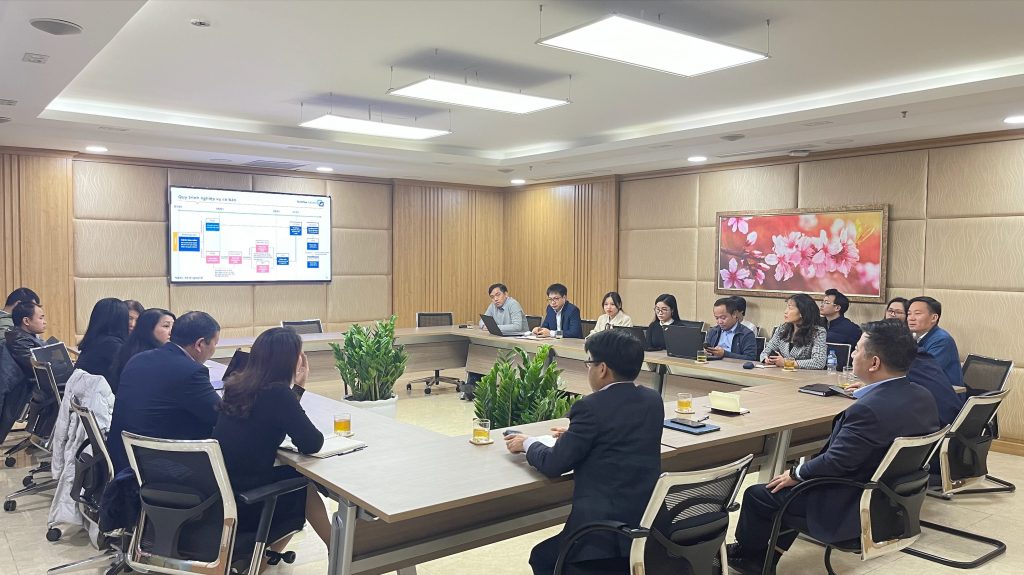 Some information presented by the contractor representative of TechPlus Solution Co., Ltd. in the meeting about the system as follows:
Some key features of the system:
Setup (debt grouping rules; processing flow; email/sms configuration, …)
Periodic proposals (suggesting debt groups to be transferred; forecasting fluctuations in financial – non-financial indicators…)
Automatic debt group transfer
Exception Handling
Statistical reporting (report; dashboard)
Notifications (email; sms…)
The proposed business process corresponds to each department and unit.

System overview model: the system will be deployed centrally at the supporting bank, and at the same time integrated with CoreBanking and TMS systems and provide functions to meet the commercial requirements of the supporting bank.
Technology solutions expected to be applied on the system:
Platforms: .NET Core, Angular
Programming languages: C#, Type JavaScript.
Database: Oracle Database 19C
Platform: Web Based (HTML, CSS, JavaScript, Angular, …)
Web Server: Nginx
OS: Linux kernel / Windows Server

The effective target that the project "Credit debt classification and early warning" aims at is the automatic support system for debt grouping according to the rule flow established by CoopBank, thereby providing early warning of risks to customers management level and at the same time comply with the regulations of the State Bank, improving the roles and responsibilities for individuals and management units:
Proactively offer decision-making support
Support early warning
Regulatory compliance
Roles and responsibilities are detailed to each user, allowing to look up archived history, improving the management responsibility of individuals and groups.